From the version 4.5 of IP Television, it is possible to subscribe to display the Electronic Program Guide or EPG.
EPG allows you to watch the channel guide on your device.
How to use EPG
To be able to use EPG in an application, it is necessary to have a playlist with useful values to uniquely define a channel. The best and widespread playlists are m3u_plus or Xtream-Codes format (discover more about Xtream-Codes).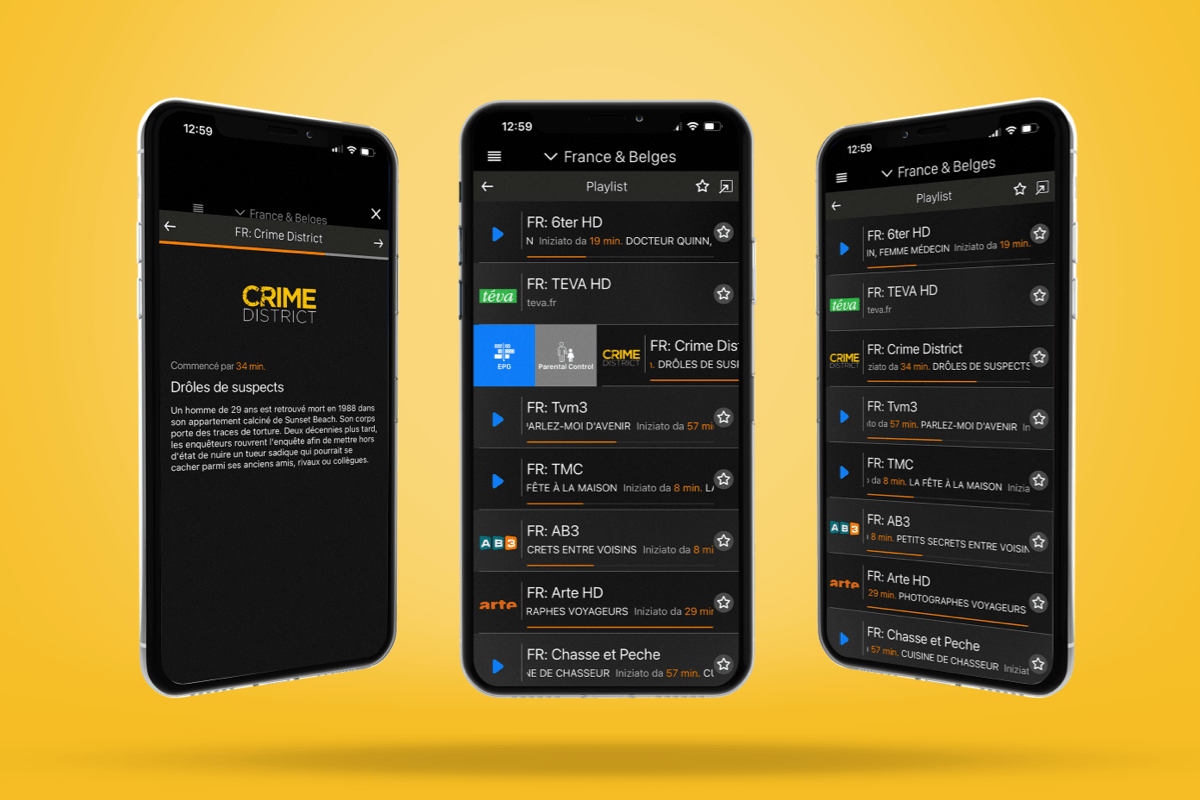 EPG in the m3u_plus playlist
In a m3u_plus playlist, the "tag-id" has to have, as tag value, the channel name in the format CrossEPG of Rytec. For example the tag value of the channel Rai Uno needs to be:
tvg-id=»RAIUno.it»
different tag values are not possible, such as:
tvg-id=»RAIUno»
or
tvg-id=»RAI Uno»
or
tvg-id=»RAI 1"
Some m3u_plus playlist examples with the right tag values:
#EXTM3U
#EXTINF:-1 tvg-id="RAIUno.it" tvg-name="Rai Uno" tvg-logo="http://url_del_logo_del_canale" group-title="Intrattenimento", Rai Uno
http://url_del_canale_streaming.ts
#EXTINF:-1 tvg-i..... and so on
M3u_plus files
Some of you have problems with the playlists that are not correctly read by the EPG. To solve the problem, verify that there is a m3u_plus string in your loaded url ( for example a part of an url could be "….&type=m3u_plus&….", change this part for "….&type=m3u_plus&….")

How to subscribe or cancel the subscription:
From the Menu, select Store >Electronic Program Guide
Click on "Subscribe" and you subscribe to the service with a permanent contract.
The first month is free, then you will pay only .99€/quarter. If you don't like the service, you can cancel it in few cliks.
This is like Sportify, Netflix, ….. and so on.
Here you find the post "how to cancel the billing of IP television via itunes»:
http://www.iptelevision.tv/how-do-i-cancel-itunes-billing-for-ip-television/
Questo post è disponibile anche in: English (Inglés) Italiano